Prime Fight Gym's Quarterly Fiesta "Internal Affairs" brings different gyms and fighters of different martial art forms from all of Singapore together in one big jamboree fight club.
The atmosphere 100 metres even outside the Singapore Judo Federation's dojo was electric. As I made my way inside, I could see there were throngs of fans and spectators crowding close to fighters warming up for their bouts, outside of the erected tentage. There were also many families with children milling around, getting freshly made Kebab, satay and other local delights, catered specially for the event. If not for the banners and posters at the door, no one would have suspected that this was the stage for Prime Fight Gym's Internal Affairs 4 – a quarterly fiesta of friendly bouts, amateur competitive matches as well as the main events. Think of it as 'Fight Club', but with a PG-13, family-friendly rating.
I have to say I had absolutely no idea what to expect. In less than a few minutes, as the Master of Ceremonies promised, the fights will begin. Given the privilege of second row VIP seats behind some of Singapore's biggest names of local martial arts practitioners and senior coaches, I find myself waiting with bated breath.
So if you were wondering where in Singapore you would be able to watch a taekwondo practitioner go against a Muay Thai fighter; or a Silat expert against a seasoned boxer; or say, a Shaolin martial arts master pitted with a Silat fighter, this will be the place. With friendly fights and true competitive bouts all thrown in, Internal Affairs – Prime Fight Gym's brilliant flagship event, is held once every 3 months.
Prime Fight Gym's founder and managing director Mr Mustafa Kamal promises that all fights will be delivered with the same sort of raw palpable energy, heightened nervousness and nail-biting tension that you could swear was emanating from you, not the fighters! And boy, did each fight deliver. You would be swept up in the waves of thunderous applause, ear-splitting screams of encouragement not only from the fighters' coaches and ring crew, but also from the audience as, with one voice, we cajoled, encouraged, bellowed, booed and even clapped our throats and hands off. The only way you could truly experience the full energy of Internal Affairs, is to be there yourself.
Besides a platform for staging friendly and competitive bouts pitting fighters and practitioners from different gyms against one another, Internal Affairs is also a celebration of all forms of combat sport and martial arts in all its raw, in-your-face glory. Although the rule is 'we never talk about fight club', Mustafa had a sit-down with me after the event to spill all the beans.
"Internal Affairs 4 is the first time we had it organized outside (of our gym at Guillemard Road). The Singapore Judo Federation very kindly allowed us the use of its outdoor property and with that, we were able to provide food and beverage, on top of the line-up of fights and bouts."
"You'll be surprised when I say this but most of the different gyms and guest fighters we invite to Internal Affairs may be our business competitors, but all of them are my dear friends as well. We wanted Internal Affairs to be a showcase of how much our gyms, our fighters, our students have grown and improved. It's meant to be a celebration of their physical conditioning, a celebration of their improvements in skills and techniques. And the friendly bouts serve to school spectators that martial arts or combat sports such as Silat, Taekwondo, Brazilian Jujutsu, Muay Thai, Boxing and even Shaolin martial arts. They are ways that one can condition your body and mind. And incorporating different techniques to your daily workout and conditioning helps to improve your physique by allowing you to challenge your body differently, through different workouts and physical fitness regimes."
"Right from the first Internal Affairs, I've wanted it to be a 'family affair'. From the people involved to the people invited to come partake of this event. From the dear friend who helped by being the master of ceremonies and he's never been one before, to friends who helped with the photography, ushering, organizing the logistics to the referees who helped umpire the fights and bouts, all kudos should go to my staff, crew and associates who have never had any prior experience managing an event of this scale, but with everyone's help, we managed to pull it off with an amazing turn-out and night. I've never been so proud of my team, and so grateful to the fans, my friends and associates who made Internal Affairs 4 a success. I look forward to welcoming you back at Internal Affairs 5."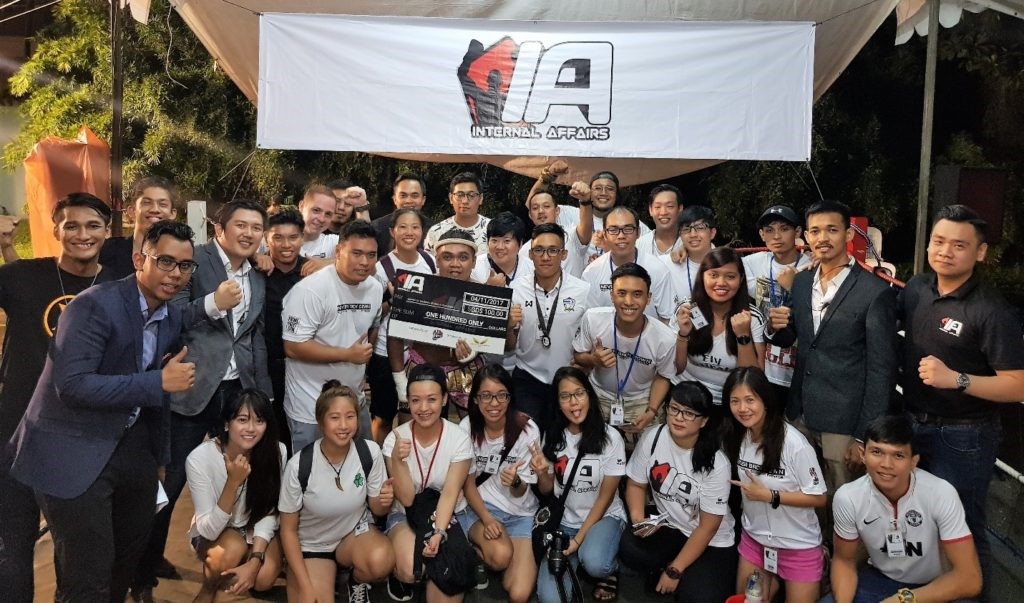 Mr Mustafa Kamal (standing, second from right), Founder and Managing Director of Prime Fight Gym, with his trainers, staff, crew and students. For more information on Muay Thai, check out Prime Fight Gym, a Tueetor Premium Partner on https://tueetor.com/primefightgym or https://primefightgym.com .