Tribute to Teachers: You Change the World One Student At A Time
At every stage of my life, at every school-going, and even non-school going year, I had a teacher who had my back. From when I was thrown into the deep-end of the pool to compete against boys (I was the only girl swimmer who knew freestyle and yep, I managed to beat 'em all), to when I cried buckets because I was not selected to join the brownies in primary school but was made Head Librarian by my English teacher (yes, I was a nerd), I had teachers who gave me the brief but vital attention when I needed it, and taught me to believe in myself, in the formative years of my life.
So here's my and Tueetor's tribute to all the educators who have come in and out of our lives, and for those for whom we're still learning from, we truly believe that all of you educators out there are some of the best that humanity has to offer. Keep doing what you're doing. Whether you are looked up to, or looked down upon, whether you're cared for, or not, respected, or made fun of; we believe teachers – those who are working from a classroom, to those who have to weave their magic in any class setting they set up, we would not be here, if not for you. Inspired by Gatesfoundation.org, edited and compiled by Cecilia Leong.
5 Ways Educators Inspire Us (inspired by Vicki Phillips of Bill & Melinda Gates Foundation)
#1 Undying Belief in Us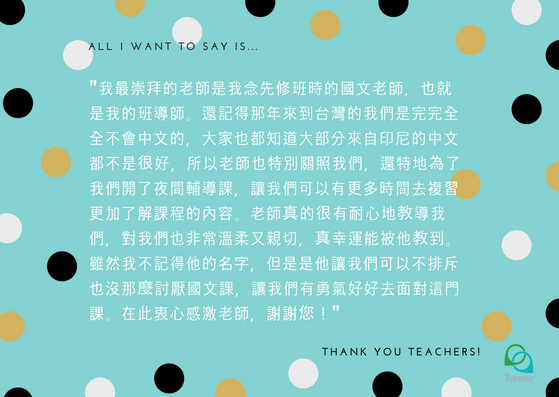 According to Ms Phillips, your favourite teacher may not have been your favourite teacher because she was soft or kind. There might have been an edge to her. She might have said "You can do this" when you said, "No I can't." She believed in you more than you believed in yourself. So she put some pressure on you. And she got your effort because she asked for it, and you met her demands because she won your trust. Because you realized "She cares about me enough to push me." And she pushed you into places you didn't think you belonged. Great teachers don't just teach you, they have a stubborn streak in them that says "I won't give up on you and I believe in you."
#2 Teachers Are Your First Mentors
Almost everyone seems to have a mentor these days. But back when you're a student, all you could hope for, is a teacher who's willing to do more than teach. Ms Phillips goes on to state that when you think about what made your teacher so good to you, you can't explain it with just words, tools and techniques, it was also because of his judgement, his charisma, his creativity, his personality that pulled you in and helped to start to create the whole bond that you would have with your teacher, sometimes even years after he's stopped teaching you.
#3 Setting Up A Collaborative Environment
The heart of learning is this connection between teachers and students that is the centerpiece of educational or learning success. Because having a mentor doesn't mean you were dictated the terms of the partnership; rather, you find that your teacher commanded a collaborative partnership. A mentorship that said, "I value your feedback because this is about you, more than it is about me. You take all the time you need, to get this. Chart out for me what're your end goals." And that's how most of us can succeed in our most challenging subjects.
#4 Dedication Not Just to a Cause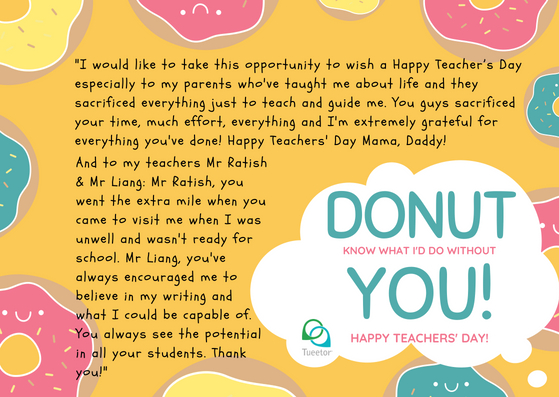 Teaching is not a job. It's really a calling driven by the belief that all students deserve to reach their fullest potential. That is why educators are willing to invest their time, energy, resources and love to doing what's best for each of their students. Most of the teachers and educators who teach do so to make a fundamental difference in their students' lives and they work to fulfill that purpose every day.
#5 Impact that Lasts Forever
When I think back, some of my teachers inspired me well enough to still carry the lessons they have taught me some 40 years ago. Those teachers were more than just educators, informers or imparters of knowledge; they inspired me to be curious, honest, gritty, to persevere. And just like Ms Phillips, my teachers inspired me to think differently about the world around me and it is because they constantly challenged me, that they believed that I could rise to the occasion, that I did. Their passion for not only teaching, but for believing in the little human they were entrusted with and commitment to my learning which shaped the person I am today.
So THANK YOU to my kindergarten teachers who taught me the love of singing and music, to my Chinese primary school teacher who, instead of reprimanding me when he caught me cheating in my spelling test, but instead shared a story which so touched me that I did not ever cheat again; to the swimming instructor who believed in a petite little girl, to the stupendous English and Math tutor who was Hagrid before Rubeus Hagrid of Harry Potter was created (and who taught not for money but to help the poorest children from the neighbourhood), I salute you.
And to all educators, I salute you, each and every one of you. As part of a team and a community who are deeply inspired by the thousands of educators who positively impact the lives of students. Not just today, this week but every day of every week. Here's a Happy Teachers' Day, to all of you!
YouTube video credit: Robin Williams' performance as an influential and empowering elite prep school poetry teacher John Keating in Touchstone Pictures' Dead Poets Society 1989, is the ultimate onscreen fictional teacher. For more information on Tueetor, pls call +656206 6660 or whatsapp 98833867. Download our app for free at tueetor.com/apps on the App or Play Store.